Ever since Bitcoin (BTC) breached the previous record of $20,000 in December 2020, more institutional investors have given the top cryptocurrency a keen eye as it continues to scale new heights.
BTC recently set a new all-time high (ATH) above $64,500, given that it has been on a record-breaking trend throughout this year.
BlockData has acknowledged that six corporate giants have taken the Bitcoin holding culture a notch higher as they have BTC worth more than $11.4 billion in their custody. The blockchain insights provider explained:
"These 6 companies alone hold over $11.4 billion in Bitcoin. The Digital Asset Custody space is booming."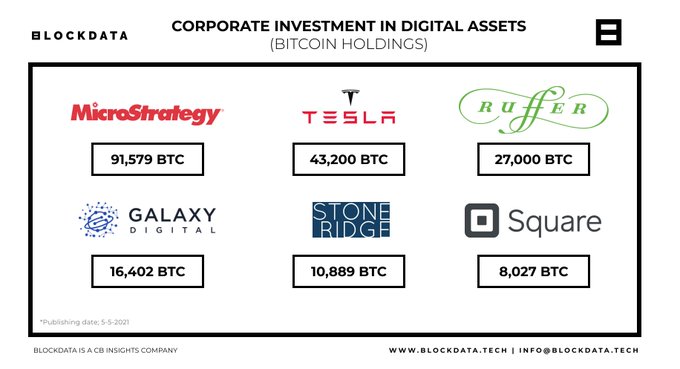 The six firms are MicroStrategy, Tesla, Ruffer, Galaxy Digital, StoneRidge, and Square holding 91,579 BTC, 43,200 BTC, 27,000 BTC, 16,402BTC, 10,889 BTC, and 8,027 BTC, respectively.
Microstrategy sets the ball rolling
Leading American business intelligence firm MicroStrategy has been setting a precedent in Bitcoin institutional investment as it recently scooped up an additional 205 BTC for $10 million.
The company's CEO Michael Saylor stated that they were more inclined towards Bitcoin because it was a more compelling store of wealth than gold. He asserted:
"The returns on gold didn't look nearly as compelling as Bitcoin. So we eventually found crypto because, in essence, in the crypto world you can create a digital world and Bitcoin is that digital gold."
Bitcoin is ready for another leg up
According to CryptoQuant CEO Ki-Young Ju:
"BTC is ready to get another leg up. A significant amount of Bitcoins has flowed out across all exchanges, weakening selling pressure."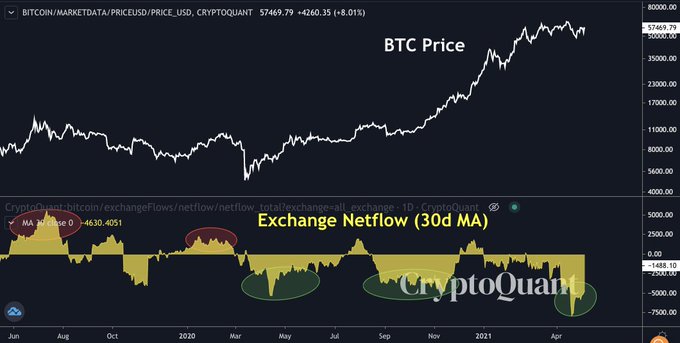 Whenever Bitcoin leaves crypto exchanges, a holding culture is signified.
Market analyst Michael van de Poppe believes that Bitcoin will have to flip the $56.5k resistance level to support if it has to retest the $60,000 area as this will guarantee an upward momentum. 
Image source: Shutterstock

Credit: Source link