Bitcoin (BTC) soared to highs of $58.4K, and this price level has not been seen since mid-April.
Nevertheless, Santiment has noted that traders are sceptical about this rally. The on-chain metrics provider explained:
"With Bitcoin bouncing back hard above $58.4k, traders are once again not believing the hype. Our sentiment data indicates commentary is more negative than usual despite BTC's highest price level since April 17th, ironically fueling prices higher."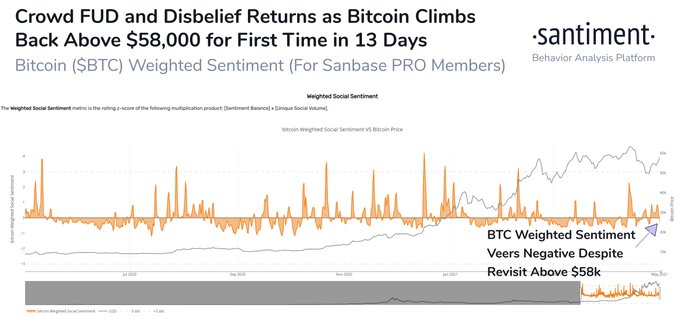 BTC plummeted to lows of $48.5k on April 23 after rumours triggered by the speculations that U.S. President Joe Biden's administration would increase capital gains taxes broke out. As a result, the crypto market was affected.
The current price surge is linked to a large Bitcoin outflow of approximately 11,886.69 BTC from crypto exchange Coinbase.

Furthermore, $3.6 billion Bitcoin options were expected to expire on April 30, and this provided speculators with the chance to either buy or sell BTC at a predetermined price. 
Bitcoin is experiencing a bullish correction
According to market analyst Michael van de Poppe, Bitcoin is not in a bear market, just a bullish correction, which will make the crypto market explode. 
BTC has been consolidating ever since it hit an all-time high price above $64,500. Nevertheless, whales holding more than 10,000 BTC have seen this as a perfect opportunity to accumulate more Bitcoins. Reportedly, they added nearly 90,000 BTC to their portfolio at the cost of $4.92 billion. 
Moreover, institutional Bitcoin adoption in Asia is making a big step forward. For instance, Nexon, the biggest gaming company in South Korea, recently bought $100 million worth of BTC.
With the mayor of Jackson, a US city in Tennessee, in talks with state legislatures to permit the metropolis to mine Bitcoin and add it to its balance sheet, time will tell whether BTC will continue with its record-breaking trend in 2021. 
Image source: Shutterstock

Credit: Source link