Ethereum broke the $3,000 mark after a rocky April. 
According to AssetDash data, the market capitalization of Ether, the second-largest cryptocurrency, has surpassed Home Depot and Bank of America.
The market capitalization of Ethereum (ETH) reached $368.03 billion, a cumulative increase of 24.25% in the past week based on Coinmarketcap.
Recently, the entire cryptocurrency market was in a sluggish state, but due to certain factors, Ether was not dragged down by the overall cryptocurrency market. Instead, it absorbed hot money and soared to a fresh record high.
At press time, Ethereum reached a high of $3,109.58. So far, ETH's rate of return is very impressive, rising by more than 300% – from $737.50 to $3,109.58 since the beginning of 2021. There are five reasons why Ethereum's price has managed to break through the psychological threshold of $3,000.
Reason 1: Developers work hard to integrate with ETH 2.0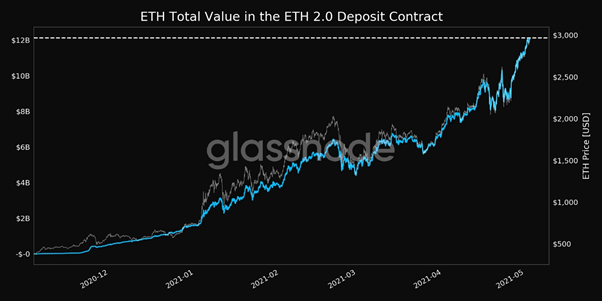 Source: Glassnode
The total value of ETH 2.0 deposit contracts surged past $12 billion.
Ethereum 2.0 went live in December 2020, and it seeks to change the current proof-of-work consensus mechanism to a proof-of-stake (PoS) framework, as it will bring a more permanent solution to the scalability and high gas fee challenge that the network currently faces.
The proof-of-stake algorithm allows for the confirmation of blocks to be more scalable, more secure, and more sustainable and requires validators to stake Ether instead of solving a cryptographic puzzle. 
These upgrades are being built by multiple teams across the Ethereum ecosystem.
The PoS model is gaining the right support as the deposits in the Ethereum 2.0 contract address recently reached an all-time high above $12 billion.
Reason 2: Ethereum's Average Gas Fees Hit a 4-Month Low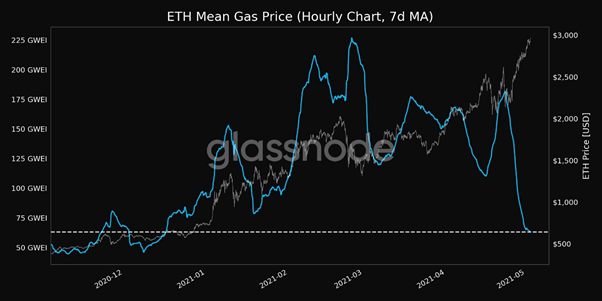 Source: Glassnode
According to data from on-chain analytics firm Glassnode, ETH Mean Gas Price (7d MA) just reached a 4-month low of 63.120 GWEI.
The average transaction or gas fees for the blockchain network has hit a 4-month low, a low of 63.120 Gwei, an improved range when compared to fees of over 100 Gwei recorded in previous months. 
Ethereum has a number of protocol improvements in place to address the gas fee issues. Recently, the Berlin upgrade went live on the Ethereum mainnet, and paved the way for the EIP-1559 upgrade which will usher in changes to the network's fee structure. 
Reason 3: The addition of digital bonds
The European Investment Bank (EIB) announced a plan to sell a "two-year digital bond" on the Ethereum blockchain network with a total value of up to 100 million euros.
At present, the bond has been directly registered on the Ethereum blockchain. The addition of this bond market indicates that large banks and financial institutions will use public blockchains for more traditional financial products in the future. This undoubtedly strengthens the confidence of the bulls.
Reason 4: The open interest of Ethereum futures contract reached a record high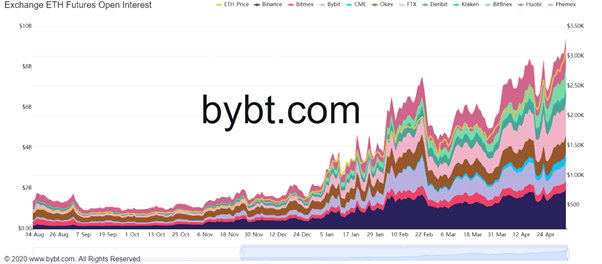 Source: Bybt
Another factor driving the price of ETH to new all-time highs is open interest in Ethereum futures contracts, which reached an all-time high of around $9.36 billion today.
Reason 5: The revival of decentralized financial markets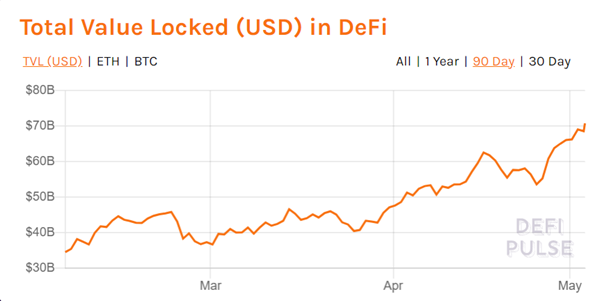 Source: DeFi Pulse
The Ethereum ecosystem has ushered in another milestone. The Total Value Locked of the entire Decentralized Finance (DeFi) market achieved a new milestone, topping $70.77 billion.
Major decentralized financial platforms Uniswap, Compound, Maker, and other leaders are working hard to break the net worth of smart contracts on the Ethereum blockchain to exceed the $73 billion mark. This marks an increase of $18 billion in just a month's time.
Image source: Shutterstock

Credit: Source link